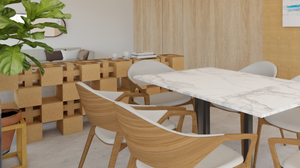 RABAT - Console
Regular price €899.00 Sale
Introducing RABAT our versatile and decorative console, perfect for space division in any environment. Whether you need to create separate areas in a room or add a stylish shelving unit, our console is the perfect solution.
Designed with a see-through structure, our console allows for easy separation of space while maintaining visibility, making it ideal for open floor plans or shared spaces. It can also serve as a stylish way to display items or store essentials.
In addition to its space division capabilities, our console is also highly adaptable. It can easily transform into other utilities such as a bed base, sofa base, or even a half-wall division. This versatility allows you to customize your space and make the most out of your furniture.
Our console is ready to be built, but we also offer customization options to suit your specific needs. Contact us for more information on available sizes and personalization options. With numerous sizes to choose from, you can easily find the perfect fit for your space.
Enhance the functionality and style of your space with our decorative console. Whether you need to divide a room, add storage, or create a unique piece of furniture, our console offers endless possibilities. Contact us today to learn more!
Number of Brocks used to create

 RABAT

:
Size: L 200cm x W 40cm x H 100cm
Weight: 120.31 Kg
Product Application — or any other items, you can think of:
Space divisors
Console
TV unit + back of sofa base
Sustainable Development Goals Impact:
SDG 3 —

 
Ensure healthy lives and promote well-being for all at all ages: 
 3€
SDG 8 —

 
Promote sustained, inclusive and sustainable economic growth, full and productive employment and decent work for all: 
 308€
SDG 9 —

 
Build resilient infrastructure, promote inclusive and sustainable industrialization and foster innovation
:  34€ 
SDG 11 —

 
Make cities and human settlements inclusive, safe, resilient and sustainable: 
 343€
SDG 12 —  Ensure sustainable consumption and production patterns: 342€ 
SDG 15 —

 
Protect, restore and promote sustainable use of terrestrial ecosystems, sustainably manage forests, combat desertification, and halt and reverse land degradation and halt biodiversity loss:
  569€
Total Sustainable Development Goals Impact: 1 599€
Disclaimer:
*This pack includes only the brocks described above. Any of the add-ons on the image are purely for creations of scenarios, cannot be sold by CORKBRICK.
** This product was inspired by the creations of our winner of the 1st edition of CORKBRICK Challenge-  Architect, Engineer and Interior Designer, NOHA HELBA

SECURITY ADVISEMENT:
1) We do not recommend this product for outdoor usage since it might be vulnerable to strong winds. 
ENJOY, CREATE AND SHARE YOUR OWN EXPERIENCE WITH CORKBRICK!